The quicKutter™ System
The revolutionary quicKutter™ rope cutter system eliminates rope and line problems. The system has no moving parts to wear out, and is easy to install.
QuicKutter™ cuts rope, line and twisted steel line.
Available in 3 sizes: Series 16 for shaft sizes 1″- 2″, Series 25 for Shaft sizes 2″- 4″ and Series 30 for Shaft sizes of 4″- 6″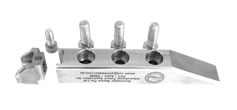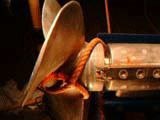 How does the Quickwater quicKutter™ System Work?
The Quickwater spool is fixed to the propeller between the propeller and bearing carrier to prevent the rope or line from wrapping around the shaft. It provides a surface for the rope or line to wrap around to enable the quicKutter™ blades to continually cut the coils of rope or line as they form and are pressed against the quicKutter™ blades.