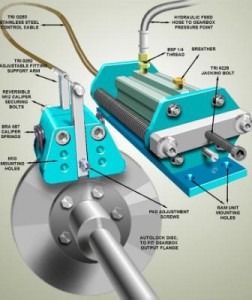 If your yacht is fitted with a hydraulic gearbox and the propeller continues to rotate when under sail with the engine turned off, it is likely that the gearbox will not be sufficiently lubricated.
Autolock has been developed to solve this problem and provides the following significant advantages:
• Stops prop rotation when sailing.
• Reduces gearbox wear.
• Reduces prop drag.
• Stops cruising prop noise.
• Manufactured from stainless steel and other non-corrosive materials.
Autolock is the only reliable automated shaft braking system available for yachts fitted with hydraulic gearboxes. Operation is automatic, springs apply the brake when the engine is off. The brake is automatically released by gearbox oil pressure as soon as the engine is started.